The developers at Duck Duck Moose have created a simple and engaging app for toddlers – and it's a great app to introduce them to using a stylus – while having fun, teaching problem-solving and improving fine motor skills.

It's called Trucks – and it is available in both iTunes and Google Play for $1.99 at the time of this post.
My little guy really took to this app from the start, he is at an age where he's obsessed with anything that involves cars/trucks and mud. So this has become the number one app on our tablet at the moment, as far as he is concerned!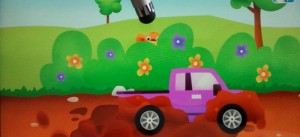 Cars and trucks, getting them dirty, washing them and fixing a puncture! – well it doesn't get any better for a young boy unless there is chocolate and ice cream involved, or a combination of both.
We are using the Maglus Stylus Mini with Trucks – as the smaller size is good for those little hands.

Tasks
There five different tasks to choose from and these are set to a number of different tunes.
CAR WASH: Roll a car through the mud and into a carwash! Clean the car with
brushes, soap and bubbles. Squirt water jets to rinse off your car then dry it off.
TOW TRUCK: Help fix a flat tire. Use a tow truck to take a car to the tire shop. Raise
the car up to a platform, change the tires and choose the hubcap you want!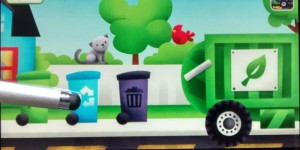 GARBAGE & RECYCLING: Clean up the street and sort items into garbage, compost
and recycling bins. Learn about garbage and recycling and earn a "Green Score." Dump the correct bin into the garbage, recycling and compost trucks.
BULLDOZER & DUMP TRUCK: Use the dump truck to create a pile of dirt and then take it away with a bulldozer.
CAR & TRUCK PARADE: Play with a fire truck, ambulance, ice cream truck, cement truck, police car and more. Control their speed with by touching the red, yellow and green signal lights.
Suitability
Trucks is suitable for children 2 years of age plus – our little guy (2.5 yrs) was not overwhelmed by overly complicated choices – this let him practice his co-ordination with the Maglus Mini and his problem-solving right from the first time he used the app.
What was his favourite task?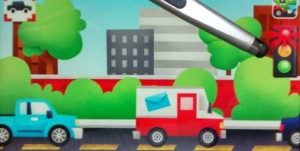 The Car & Truck Parade – where he was changing the colour of the traffic lights to start, stop or slow the vehicles. He really like being able to use the stylus to speed up or slow down the vehicles as he named each one on the screen.
His understanding of traffic lights, the instructions he now gives me at every set of pedestrian lights – are clear and absolute, as he reminds me that trucks have to stop for red lights and that we can only cross the road if there is a green light.