We've a guest blogger this week: say hi to talented tablet artist and teacher Paul Kercal.
Exciting things are happening in our little Maglus world. We are launching a new tip soon – a Brush Tip for all the Picasso enthusiasts out there.
We wanted to give you – the Maglus users, an insight into how the new tip works. What better way than to ask an artist to test it out! So we teamed up with Paul and offered him a sneak peak at the new product. He was happy to do so and give his feedback, which he turned into a blog post.
We think the Brush Tip is a great addition to the Maglus family – but we're biased of course!
Have a read and see what our reviewer thinks…..
Hey there! In case we've not met, I'm Paul Kercal, a tablet artist and teacher (mostly A level graphics and diploma level computer game arts but a few other courses here and there). Over the past few years the students and I have been running demos at a range of shows and places (BETT, the RA, the Barbican, Gadget Show Live, Eurogamer, MCM and all sorts, so it's quite possible you'll have seen a stressed orange haired teacher running between screens either drawing or telling students to draw more… )
Over the past few days I've been using the Maglus Brush tip which is due out soon and Applydea, asked me what I thought, and after that they asked me if I'd blog about that so here we are 🙂
The brush… what's it like?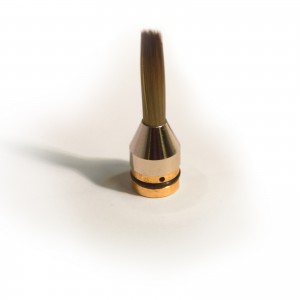 Well, for a start I've been using a Maglus for a while. I love the design, the magnets are more useful than at first I thought they'd be and the tip is as good as any rubber tip I've used. (Well… it's possibly second to the Pogo Sketch Pro, which I also love, but is more durable… so is a much better carry in the pocket and use when needed option).
But rubber tips aren't my favourite stylus if I'm honest (I prefer bluetooth, micro fibre and brush) so I was very happy to hear there was a new Maglus in the offing. Somehow that led to the offer of testing one out and I've been using it ever since.
Why a stylus? Personally I was tablet arting almost exclusively soon after the first iPad came along. The iPhone had been an art addition to the desktop computer for me but the iPad pretty much took over. Since then I've stretched out into Android and Windows but on all devices over 7" I use a stylus. The improved visibility and connection to the screen were good reasons alone but I could also feel the beginnings of RSI nagging at the top of my drawing hand pre-stylus. For me a stylus is a health consideration as much as an interface one.
Why a brush? Possibly the biggest joy of drawing on a glass screen is the death of friction. When I first demo tablet art to students I liken it to the marble floor in an art gallery. Tell me you don't want to take your shoes off and slide. That's what glass touch screens bring to the table and a brush is one of the best ways to achieve this happy feeling while creating. It can take a while, sometimes – and most ironically for longer if you're used to painting with brushes as screen art is a different media to learn… but when I paint or draw on a tablet I tend to have a range of styli with me and there's always a brush in the mix. The Maglus is now a part of the clutch of scribble sticks that I hold at any one time (it's very much not even remotely a like for like comparison but you wouldn't tell Leonardo to only use one brush. I can't just use one stylus).
The paintings throughout are quick studies created using Maglus on a range of devices and apps – all I have time for at the moment! I've never had so many students and we've never done so many events. In the next month alone we're running stands at the Apple Store Regents St – Feb 23 – the JISC Digital Festival – Mar 9-+10 – and the London Super Comic Con – Mar 14 +15. Come and say hi if you're around. And if you want to try the Maglus just ask 🙂
One last thing…
Each stylus has a natural home, each tablet has a best partner. If I'm on the Hudl 2, I can't imagine using anything other than this brush because it just fits together so well… that said, I've not found a tablet it isn't happy to work with. Definitely a recommended buy!
Paul Kercal.
Web – www.kercal.co.uk
Blog – Kercal.wibsite.com
Twitter – https://twitter.com/Kercal
Flickr – https://www.flickr.com/photos/56759148@N00/