Why and how the Illustrator uses Maglus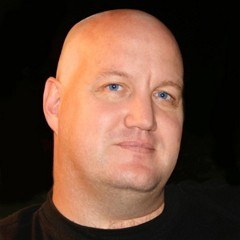 Illustrator and Graphic Designer
Johannesburg, South Africa
"I love the way the Maglus interacts with my iPad, I am able to accurately control my illustrations with it"
"The combination of Maglus + iPad nicely compensates for the the feel of a real pen in hand when illustrating"
Brendan's Story
Brendan is a
freelance graphic designer and illustrator
with a passion for
logo design
. He has
his own below-the-line advertising agency
in Johannesburg.
He'd used
other styli
before but found them
imprecise
and unresponsive - in his own words, "as if you were dragging a booger around the screen"!
He was an
early adopter
of the Maglus, and immediately
fell in love
with it. He finds it
mimics the feeling of drawing with a pen
, but he can
control
his illustrations with it.
It also means he can be
mobile
, and enjoy the
freedom
of doing his
digital drawing anywhere
he brings his iPad 2.
How does Brendan use Maglus?
Brendan says the main issue he had when
drawing using a desktop computer and mouse
was that he could
never draw as well as he could when drawing by hand
- it just didn't have the same feeling. When he started using the Maglus on the iPad 2, he found it has a
similar feeling to drawing by hand
, but with the
benefits of digital control and manipulation
.
Brendan does
illustration work
in
vector format
using the app
Adobe Ideas
. It
syncs directly
with Adobe
Illustrator
and he can
enhance
his illustrations with Text or any other Adobe Illustrator features. See his "Combi Camper" newspaper illustration below!
In his
spare time
, he also loves to
doodle
in
Adobe Ideas
with the Maglus which helps him to
relax
!
Brendan also likes the app
Sketchbook Pro
for making
pencil drawings
.
"I love to doodle in Adobe Ideas with my Maglus - I find it very relaxing and a great use of off-time"
Why does the Maglus work for Brendan?
We asked "Why Maglus?" and here's what he said…
"I fell in love with it immediately and have used no other since"
"The hand-drawn feel that is missing in Adobe Illustrator on a Desktop is nicely compensated for with my Maglus on my iPad"