It is possible to cook Popcorn with your Maglus Stylus Mini? Try telling my son he wasn't cooking popcorn on his tablet!

Popcorn is one of four games that make up the app Kids games 2 and it is comes the developers at Gh Team – it is a simple, fun app for children to use with their Maglus and the app is free in the Google Play store at the time of writing this blog.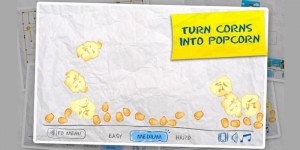 My guy making popcorn and he seems happy with the result!

We were using the Maglus Mini and the original silicone tip while testing this app. To say the Popcorn Game was my son's favourite, is a slight understatement – in fact it was difficult to get him to play any of the other games. When we first used the app with the Maglus Stylus Mini, he played this game repeatedly for the whole time (40 mins) that he was allowed and then pestered me for another fifteen minutes with "One more time – Please Daddy, please. Ahhh please….."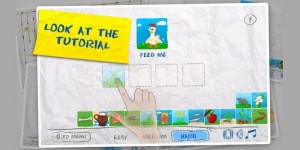 The Feed me game- helps with memory and decision making, by means of collecting and memorizing food for different animals. If your child gets stuck while trying to choose the correct food, there is a help "help" button, which narrows the choice to two pieces of food the animal might eat. This proved quite handy, as my sons favourite fruit is an apple and so he selected this to eat for every animal and he even insisted that the fish should eat the apples! Hmm- I have got to watch him closely the next time we are at the aquarium in the Zoo.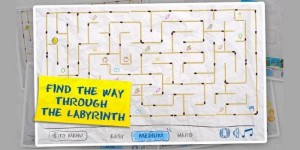 The Labyrinth game exercises logical thinking, balance and co-ordination. Here you need to find the way through the labyrinth, rolling the smiley face through a maze, made of match sticks, tilting the screen from side to side – gathering different bonuses on the way. This was the most challenging for my son and to be honest he is still getting the hang it.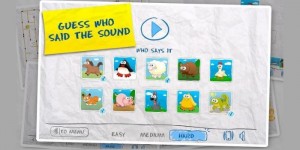 The Who says it game – will teach your child to distinguish animals by their sounds. This is really simple, but most importantly for young children it is fun. Use the Maglus stylus to select the animal that matches the sound, get four correct and you are to move on to the next level.
I like the crumpled paper effect of the backgrounds in the app and it is suitable for children of two and older. But like most free apps, there are in app purchases and not all levels are available in the free version. The Gh Team have made a fun little app – my boy gets to improve his motor skills using his Maglus Stylus and have a lot of fun at the same time.
All I need to do now, is to figure out how to get him to switch off the tablet and put the Maglus back on its magnetic plate without a having a meltdown !