Happy Monday guys, Paula here. I thought it was appropriate to share this feel good post today and get the week off to a positive start. So, read on and enjoy!
In the short time I've been working at Maglus, I've realised that the Maglus customers are more than 'customers'. They're loyal followers and supporters who genuinely care about our brand. Interacting with these lovely people is what I view as a perk of my job. An example being, US Artist – Susan Murtaugh. I've only been chatting to Susan a few weeks, but am hugely impressed by her amazing art and warm personality! I was surprised and equally delighted to receive a glowing review of Maglus from her. Rest assured, she took the time to write the content below without being asked(harassed or bribed!)
As the saying goes – "Its nice to be important, but more important to be nice"
So here at Maglus, it goes without saying that we'll continue to be nice. If every customer is half as satisfied as Susan, we'll be doing something right!
Here's a little info on Susan…
She is a graduate of the Chicago Academy of Fine Art. She's worked for over 45 years in advertising and graphic design, including 25 years as Principal of her own design firm. She's used every traditional art medium. Since 2009, her preferred tools are her iPhone and iPad. She's been featured in several group shows, online galleries, workshops and in local and international news. Her work and tutorials have been featured in Digital Artist Magazine and online. She has curated several international digital art shows, and has served for 3 years as Artist in Residence for Manitowoc's public schools. She loves sharing the joys of mobile digital art.
Susan resides in the Town of Two Creeks, WI with her husband and son.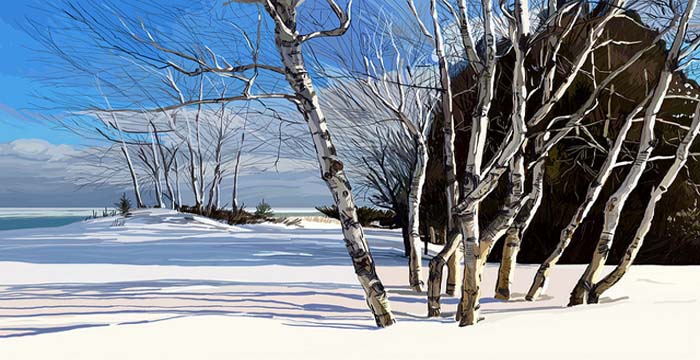 "Most of my artist friends know I'm a huge fan of the Adonit Jot Touch pressure sensitive stylus. That being said an artist doesn't use only one tool to make art, traditionally or digitally. I have many styluses, in fact I could start a support group for my addiction to them.
I've been using a new one now for a while and it's really grown on me for warming up and capturing quick sketches on the go, especially when I don't have the Jot Touch with me. It's the Maglus Stylus
This is an incredibly well thought, designed and made product. It's packaging is wonderful, the feel and balance are unparalleled. They come in two sizes, regular and mini. I have both as you can see in the picture. They cost $36.00, which may seem a bit pricey when you can get a generic for five bucks. But these are like Jaguars in the car world, simply beautiful and efficient.
They also have two very powerful magnets in the barrel that keep it firmly attached to my iPad's cover when traveling. And they also keep it attached to the lamp next to my easel when painting, why they cling to the easel as well, so I never worry about them getting lost. Included in the shipping box is a adhesive steel plate that you can attach to anything so the Maglus will stick to it. (Think non Apple covers). Also included is a key ring capsule with an extra tip. And here's the best part, you can buy spare tips. And not just one kind of tip, a conductive silicone tip comes with each stylus, but they also offer the capacitive mesh tips which I greatly prefer. I do believe they wear better, so first thing I did was order an extra set of those.
You'll also notice in the picture the larger black stylus has a brush tip for you iPad brush loving fans. It works great. I have a sensu, and they work very much alike. The Maglus brush has a flatter top but works just as you'd expect it to. It's soft and well made. Perfect for brush loving fans out there.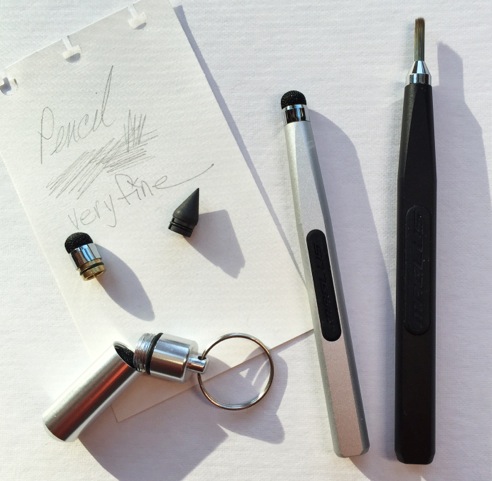 You'll see there's a lead tip in the picture. You can turn that digital stylus into a regular pencil for a return to traditional sketching in your sketchbook. Maglus sells it's own premium sketchbooks or you can use any old piece of paper like I did. I didn't think I'd like the lead tip but it turns out I like it a lot. So much so that I now have the lead tip in the longer black Maglus and the fiber mesh in the silver mini.
A note about changing tips. It's a piece of cake. Very easy to twist off and pop on, check the photos out on their website, again the craftsmanship is superb.
I used the black Maglus to teach my master class in Vegas this past December and it worked flawlessly. When teaching I prefer a non pressure sensitive stylus, just to insure no glitches, and most people use regular ones or their fingers. I should also point out here I must use a stylus as I have nerve damage in my hand and it's not reliable. Plus a stylus is all around more comfortable.
One caveat the tips are a bit larger than most, so if you like itty bitty you won't like these. I find these tips never miss a mark, they're the most reliable on the market, and I have them all. I would rank them on a par with Jot Touch, the original Pogo Pro and the new Wacom Bamboo.
I created the image of the radish below with the app SketchBook on my iPad Air 2. I used a black Maglus and silver mini using the fiber mesh tips except for the swishy lines on the yellow block, there I used the brush which really worked well.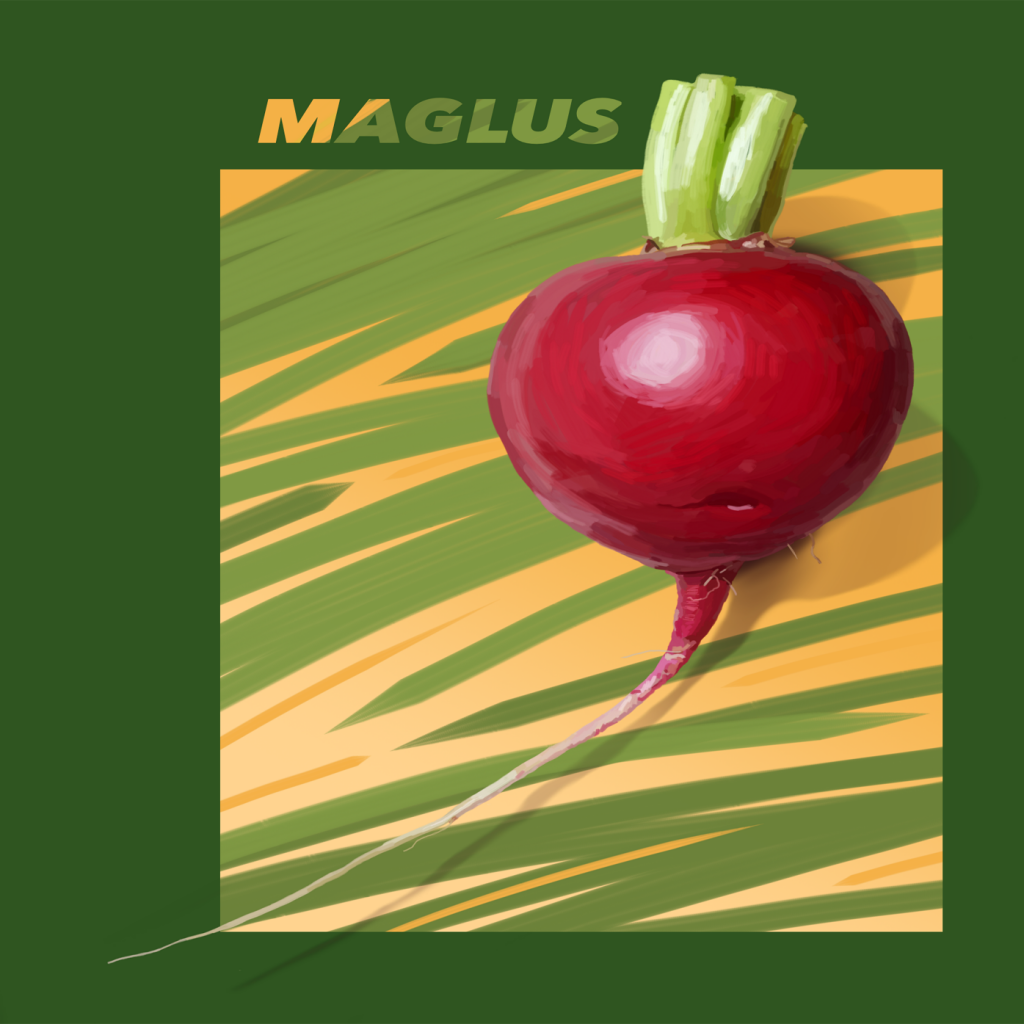 Lastly, the team is fun and helpful, I've emailed with three of them, they're all knowledgeable and nice. It's like having friends interested in what you do and how you make your art".